The 6 Benefits of Decorating with Silk Florals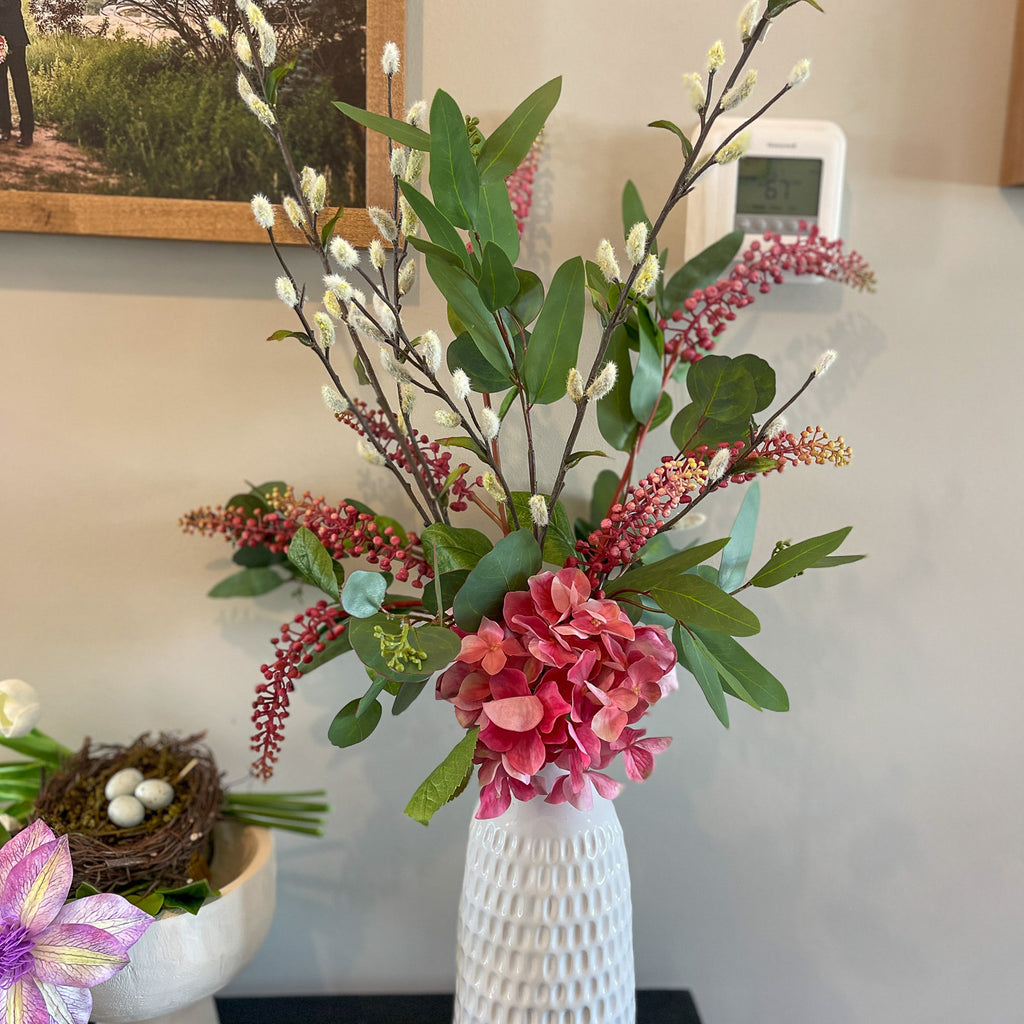 The 6 Benefits of Decorating with Silk Florals
Silk florals have been gaining popularity over the past few years as an alternative to fresh flowers. And why not? They offer a multitude of benefits that fresh flowers can't compete with. In this blog post, we'll explore the benefits of decorating with silk florals, focusing on the fact that high-quality faux flowers look realistic but require no watering.
1. No watering required
One of the most significant benefits of decorating with silk florals is that they require no watering. Fresh flowers require constant attention to stay alive, and if you forget to water them, they can wilt and die quickly. Silk flowers, on the other hand, require no maintenance other than occasional dusting to keep them looking fresh and vibrant using Silk Renu cleaner.
2. Can be used outdoors
Many high-quality silk florals can even be used outdoors and can have UV protective coatings to resist fading. This means you can enjoy lasting, perfect flower blooms all season long without the hassle of watering, fertilizer, or harsh sun rays. Imagine having a beautiful floral arrangement on your patio or balcony that looks great all summer long.
3. Realistic look and feel
Advances in manufacturing techniques have led to silk florals that look and feel realistic. High-quality faux flowers are often indistinguishable from fresh flowers, making them a great choice for decorating your home or office. With silk florals, you can have the beauty of fresh flowers without the hassle of constantly replacing them.
4. Excellent gift idea
Silk flowers make excellent gifts for a variety of occasions. Whether it's a birthday, anniversary, or just because, a beautiful silk floral arrangement is sure to brighten up someone's day. Plus, with their long lifespan, your gift will be enjoyed for years to come.
5. Creative outlet for DIY floral designers
Silk florals can be a creative outlet for DIY floral designers because of the high-quality wiring in silk stems. This means you can bend and shape the stems to create a customized arrangement that perfectly fits your space. You can even mix and match different varieties of silk flowers to create a unique look that's all your own.

6. Long-lasting and easy to care for
With proper care and storage, artificial stems can last a lifetime. Unlike fresh flowers, silk florals don't require regular replacing, which makes them a great investment. Plus, they're easy to care for. Simply clean them occasionally with Silk Renu, and they'll continue to look beautiful for years to come.
In conclusion, decorating with silk florals offers many benefits, including no watering required, the ability to use them outdoors, a realistic look and feel, an excellent gift idea, a creative outlet for DIY floral designers, and long-lasting and easy to care for. So, the next time you're looking to add a touch of beauty to your home or office, consider using high-quality silk florals for a stunning and low-maintenance option.